2019 Ford Escape vs 2019 Mazda CX-5 in Montreal
April 30 2019,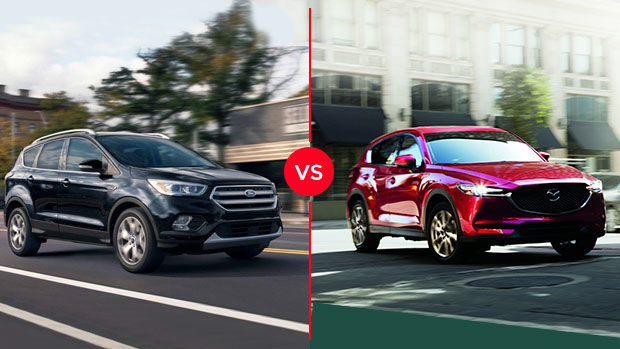 Can't decide whether you want the 2019 Ford Escape or the 2019 Mazda CX-5? We have the answer!
All SUVs are not created equal. Sure, they're roomier than a sedan, they offer various all-wheel drive technologies and offer a more interesting design than a minivan. But very few SUVs can compare with the 2019 Mazda CX-5, that you can admire and test out at Spinelli Mazda in Montreal. Its closest rival, if there is one, is the 2019 Ford Escape. Let's see how these two vehicles compare.
The first thing we notice is the obvious difference in design. The 2019 CX-5 shows off the fluid and dynamic lines of its KUDO design. There are lots of graceful and energetic lines. On the other hand, the design of the 2019 Escape is conservative and rectilinear. Will this look stand the test of time?
Let's talk safety. Driving in rush hour traffic in Montreal, the West Island, St-Laurent or in the core of Laval is a sport in itself! CX-5 and Escape are both equipped with intelligent cruise control, braking control, blind spot detector and cross traffic alert. But the CX-5 stands out for safety as well. That's because it also includes pedestrian detection, an intelligent system that will brake if it detects a person in front of the vehicle.
Let's not forget the all-wheel drive. The kind of road conditions found on Laval highways and West Island boulevards have many drivers making the switch from sedan to SUV. The Mazda i-Activ AWD technology sets the bar high. This Mazda SUV doesn't just transfer the power to the front or rear wheels like other SUVs. It analyzes the road conditions, car behaviour, weather factors, and all that happens 200 times a second! As for the Escape...let's just say that Ford will have to do a lot to keep up.
Come in for a test drive and experience the pleasure of SKYACTIV-G technology for yourself. Come in to your Mazda dealership and don't forget to ask about our promotions and Mazda financing deals.